Our Awards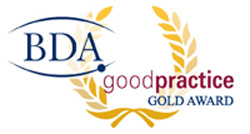 Redhouse has held the British Dental Association Good Practice Award since 2004.
This means that everyone here has made a commitment to quality dental care. We aim to keep up to date with nationally agreed standards of good practice and provide the best care for our patients.
We are also especially proud to be one of the approximately 250 dental practices that hold the Gold Standard Award. This is seen by the BDA as a significant achievement demonstrating that we have been committed to complying with the Good Practice Scheme standard, and has held membership of the Scheme, for a continuous period of ten years or more. The BDA values its gold members as "part of a very exclusive group."
As a member of the BDA Good Practice Award Redhouse will:
carefully look at the service that is provided and compare it against nationally recognised standards of good practice for patient care
be assessed by the British Dental Association
regularly carry out internal checks on working methods.
The British Dental Association (BDA) is the professional association for dentists in the UK, and has over 18,000 qualified members, plus over 3,500 student members.
Click on the BDA Logo, above, to connect to their Website, including links to 'BDA Smile', where you will be able to access information on dental healthcare for the whole family.